Ring in the steampunk decor to pimp up your home
A steampunk composition in your interiors works the best when the furniture, accessories and lighting are in harmony with the decor pieces and the palette. An easy to achieve DIY style, steampunk has some tacit rules to get the perfect look. Choosing among the muted neutral shades of brown, cream, dark red, black and dark green, metallic colors or color combinations of the said tones, as per the room, works really well.
Old refurbished furniture is a proven way to add oodles of special charm to any home. If you wish to create a steampunk style at home, it is better not to buy new furniture unless it is specific to the Victorian era. Although variations are available, all pieces of quintessential steampunk furniture boast of a rather raw, rough edge typical to the industrial style, with plenty of metallic insertions, strange unconventional shapes and up-cycling ideas, old gears & belts. Another key aspect of steampunk decor is old chests that can be easily transformed into graceful coffee tables, side tables or no-frills storage solutions. Old trunks and vintage suitcases oftentimes have a sentimental value, due to which their vintage appeal is generally incorporated into steampunk decor.
If the structure of the building does not allow for an exposed brick wall, wallpaper depicting bricks is a good idea. Further, wallpaper, decals or wall murals can be conveniently created using old maps- simply frame and hang them on the walls. Another great idea is to decorate the lampshades with old maps. Remember: the older, the better! Wallpapers or self-painted motifs with a Victorian pattern/ classical old-world book characters are not bad either.
Items with a characteristic Victorian essence like an old & used terrestrial globe, classy top-hats or bowler hats, canes or a Victorian dress for the mudroom wall hooks, antique sewing tables, old steamer trunk to be used as a living room table, exposed framed herbariums for the hallway, sepia photos for the walls, technical & anatomical drawings/ sketches and antique barometers, telescopes or typewriters are wonderful examples of decor items for steampunk style. Displaying old hard-covered books and old notebooks with leather covers can also make a mighty style statement if arranged tastefully. Creating a metal pipe bookshelf is a smashing idea to display the old books in an elementary industrial style that is quite easy to handle as well. 
Textural contrasts by combining a hard material like leather with a soft one like lace goes a long way in achieving the typical steampunk design idea. So, it is safe to say that a good deal of the visual appeal of steampunk comes from the juxtaposition of conventionally feminine & masculine elements.
Gears are important items in the steampunk style, and a gear wall clock is a nice way to unleash some creativity. Decorating the walls with gear wall clocks is another of DIY steampunk design elements. An old clock with exposed gears conveys an honest design and can be the focal point on an otherwise blank wall. Old gears can also be used to create & display numerous industrial art decor pieces that fit perfectly into the aspired style.
Last but not the least, artificial light is a key feature to go with the steampunk style of decor. After all, one cannot appreciate the beauty of a rust red room with dark leather furniture & a multitude of old touches in the absence of light. Warm lighting transforms the space, softening edges, molding surfaces, adding powerful contrasts & delicate shadows and thereby making the room much more welcoming. Steampunk design tends to drift onto the rough zone and this is where artificial lighting comes in to balance the look. A chandelier is a good idea if you have high ceilings. Candelabra chandeliers are a great option as they bring in Victorian hints of luxury and comfort too.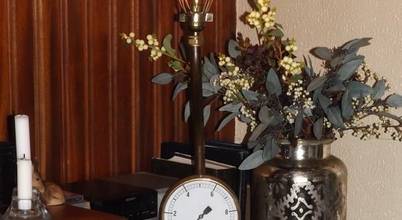 Ring in the steampunk decor to pimp up your home. With the constant evolution of interior design, contemporary home design offers a variety of styles to choose from—modern, classic, rustic, bohemian, retro, Scandinavian, vintage, etc.- befitting the personal taste of the homeowners. When your home spaces like the living room, bedroom
Steampunk Ring. Du suchtest nach: steampunk ring! Auf Etsy gibt es Tausende von handgefertigten Produkten, Vintage-Stücken und Unikaten passend zu deiner Suche. Ganz gleich, wonach du suchst und wo du dich befindest, auf unserem globalen Marktplatz mit Verkäufern aus der ganzen Welt kannst du einzigartige und preisgünstige Optionen finden. Los geht's!
Video of Ring in the steampunk decor to pimp up your home
Ring in the steampunk decor to pimp up your home
Ring entstand aus der realen Funktionsweise der Uhr. Es werden die kleinen Details, die Ihre Uniform Geltendmachung Ihrer Seite Steampunk anpassen wird. Größenverstellbar Pinterest.de. 28.11.2018- Erkunde aileen1096s Pinnwand "Steampunk" auf Pinterest. Weitere Ideen zu Steampunk, Schmuck und Steampunk schmuck. Steampunk Wedding Rings. Steampunk Man's Silver Ring by Swank Metalsmithing (Etsy) - Incredibly detailed SteamPunk ring features a series of interlocking gears running through the center and two rails on rivet heads. I designed this ring in a CAD program for jewelry it was then carved in wax and lost wax cast and finished all right here in our shop. This is an original design and you will not find this ring anywhere else. Pinterest.de. Steampunk ring, stainless steel unisex steampunk ring, watch gear ring, silver, bronze and gold ring, OOAK Kunst Aus Metall Schmuck Ringe Schöner Schmuck Schmuck Herstellen Schmuck Basteln Steampunk Kette Kreative Dinge Ringe Silber Fingerringe Steampunk Clothing, Decor, Fashion, Costumes, Jewelry. Steampunk Clothing, Fashion, Costumes & Decor Online Store Steampunk Lot offers a vast selection of handmade steampunk clothing, costumes, cosplay, steampunk accessories, DIY craft supplies, steampunk fashion jewelry, gadgets & decor, all at best quality!
Tags: Ring In The Steampunk Decor To Pimp Up Your Home
STEAMPUNK TOP HAT Gold Steampunk Hat With Sheet Metal
Decorating Theme Bedrooms
Victoriana Steampunk Ring In Brass From EnchantedLockets
Etsy Store With Steampunk Jewelery
Bullet Casings Steampunk Wire Ring From Keoops8
Spirithalloween.com
Steampunk Swiss Watch Movement Ring- From Keoops8
Steampunk Watch Movement Ring Exposed Gears
Multi-Tone Gear Steampunk Ring
160 Best Images About Fleur De Lis On Pinterest
Discreet Canno-Digitus Steampunk Ring
Recycled Turnable Wheel Pizza Cutter Steampunk Earrings 2
Time Travel Aid Steampunk Tac Pin
25+ Best Ideas About Leather Tops On Pinterest
25+ Best Ideas About Steampunk Gears On Pinterest
Buy Steampunk Gears Golden Clock, Steampunk Clock, Clock
60(W)x72(H)-Inch Waterproof Bathroom Steampunk Gears
Steampunk Vintage Glass Pocket Watch And Necklace
17 Best Images About Victorian Double Parlor On Pinterest
17 Best Images About Steampunk On Pinterest
Steampunk Bracelet · A Clay Bracelet · Jewelry Making And
Recycled CD Disc Drive Motor Red Coil Steampunk Earrings
Steampunk Wreath DIY Collage
Dark Multi Color Synthetic Fire Opal Steampunk Gears
FULL TILT 5 Piece From Tilly's
Split Steampunk Mourning Ring In Solid Bronze With Skull And
Steampunk Butterfly Crystal 316L Stainless Steel Belly
Octopus Steampunk Ocean Waterproof Shower Curtain Rings
Steampunk Fairy Magical Fairy Glow In The Dark Necklace
25+ Best Ideas About Mechanical Gears On Pinterest
Steampunk Light Bulb Jewelry
Diving Helmet Light Up Necklace
Steampunk Teddy Bear Home Decor 3D Wall Art
Steampunk Ring From CD Drive Electric Motor Red Coil
Bichelle's Blog: 2011 October The Steampunk
456070 Best ☆ LA BOUTIQUE (Pin Exchange) Images On
Steampunk Ring Gears Watch Parts
Charmian® Women's Retro Goth Brocade Steampunk Overbust
QinYing Women Steampunk Bustier Jacket Brocade Steel Boned
Acwei T Women's Gothic Steel Boned Brocade Vintage
Handmade Altered Old Victorian-style Big Wooden Jewelry
Silver Filigree Steampunk Gothic Watches · A Watch
Diy Duct Tape Steampunk Top Hat · A Top Hat · Version By
New Vintage Gothic Steampunk Big Gold Rings 8pcs Plastic
Forum Novelties Ladies Brown Velvet Ornate Steampunk Mini
25+ Best Ideas About Industrial Towel Bars On Pinterest
Steampunk Leather Wrist Wallet Cuff With Secret Pocket For
Steampunk Clothing - Unique Steampunk Fashion
Steampunk VTG Victorian Punk Cincher Lace Up Rivet Pocket